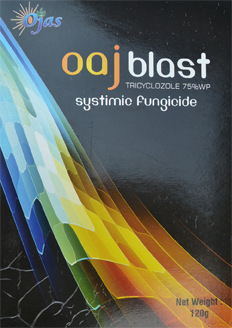 Common Name
Tricyclazole 75% WP
Dose
300 gm to 400 gm per acre
Use/Benefits

OAJ BLAST is a highly effective systemic fungicide.
OAJ BLAST rapidly absorbed by the roots and foliage and translocated, within the plant.
OAJ BLAST controls rice blast, in transplanted and direct seeded rice.
OAJ BLAST IS non phytotoxic if used as directed.
OAJ BLAST IS compatible with much other pesticide.
OAJ BLAST will resistant souring; it is not need to spraying agin after one Hour although come across rain.
OAJ BLAST is inhabit spore germination and produce of the bacterial, so that prevent germs entered and reduce produce the spore of rice blast.
OAJ BLAST used for control of blight and wilt in cumin crop.

Packing
100 gm, 250 gm, 500 gm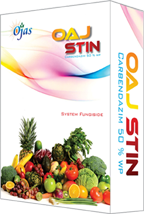 Common Name
Carbendazim 50% WP
Dose
150 gm to 200 gm per acre
Use/Benefits

OAJ STIN is widely used broad spectrum benzimidazole fungicide and metabolite of benomyl.
OAJ STIN is a systemic fungicide.
OAJ STIN control rice blast and sheathblight.
OAJ STIN works by inhabiting the development of fungi probably by intering with spindle formation at mitosis(cell division)

Packing
100 gm, 250 gm, 500 gm & 1 kg.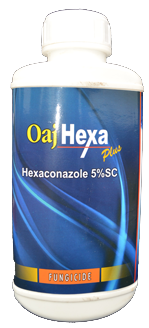 Common Name
Hexaconazole 5% SC
Dose
200 ml to 250 ml per acre
Use/Benefits

OAJ HEXA plus is highly effective systemic fungicide with protective, curative & eradiactive action.
OAJ HEXA controls wide range of diseases like erysiphales (powdery mildew) ascomycetes (scab) basidiomycetes (rust)fungi Imperfect (wilt).
OAJ HEXA Plus can control various diseases in filed crop like rice, wheat, peas cumin, tur, groundnut, mango, coffee, tea, chilly, grapes, tomato etc
Due to translaminar action it is quickly absorbed & translocated within the leaf an system resulting quick and effective diseases control.
OAJ HEXA gives phytotonic effect and improves the plant visible characteristics like yields & also produce quickly.

Packing
100 ml, 250 ml, 500 ml, 1 Liter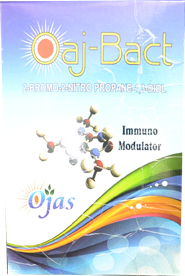 Common Name
2-Bromo-2-Nitro-1-propane,3 Diol
Dose
60gm per acre.
Use/Benefits

OAJ BACT is a advance bactericide
OAJ BACT is effectively control bacterial blast of paddy.
OAJ BACT is used in various crops like Cotton, Papaya, Tomato, Chillies, Brinjal, Potato, Onion, Garlic, Grapes etc for effective control of bacterial diseases.

Packing
20 gm