Common Name
Amino Acid based bio stimulant granules
Dose
3 kg to 5 kg per acre.
Major Crops
Paddy, Gram, Redgram, Soybean, Wheat groundnuts, banana, tea, all vegetable & fruits
Properties

OZONE-G improves the ability of roots to absorb more nutrients.
OZONE-G increase the soil productivity
OZONE-G increase the crop higher yields.
OZONE-G developing the roots system.
OZONE-G help to fruits & flower setting and control to dropping.

Packing
10 kg bucket, 20 kg bucket, 50 kg bag, 50 kg drum.

Common Name
Amino Acid Enzymes
Dose
250 ml to 350 ml per acre
Major Crops
paddy, gram, red grams, soyabean, sugercan, wheat potato, groundnut, tea, all Vegetables all fruits
Properties

OAJ GRO increase plant growth.
OAJ GRO increase number and size of fruits and flower
OAJ GRO control fruits & flower dropping.
OAJ GRO improves shape, size, color, of fruits.
OAJ GRO can helps to up take nutrients.

Packing
100 ml, 250 ml, 500 ml, 1 Liter, 5 Liter.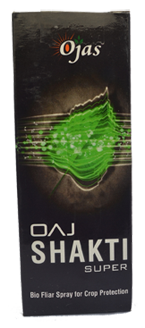 Common Name
Organic based products
Dose
100 ml to 250 ml per acre
Major Crops
paddy, gram, red, grams, soyabean, sugercan, wheat potato, groundnut, tea, all Vegetables all fruits
Properties

OAJ SHAKTI is purely organic based an advance herbal medicinal plant extracting.
OAJ SHAKTI is recommended to develop resistant power against all larval insect to all agricultural crops for very long duration.
OAJ SHAKTI control all larval insects pests like spodoptera, heliothis, stoped bollworm ink ball worm, fruits & shoot borer & DBM in all vegetable, fruits and filed crops.

Packing
50 ml, 100 ml, 250 ml, 500 ml, 1 Liter
Common Name
OAJ STIK sticker spreader- rain faster-Activator
Dose
10 ml to 15 ml per liter water
Specification

OAJ STIK once applied on leaf surface, it quickly sticks, uniformly spreads and activates effect of pesticides/foliar fertilizers/fungisides/ herbisides.
OAJ STIK is enhance dispersion of wetable powder.
OAJ STIK is has preventive as well as curative action.
OAJ STIK is being anionic/non-lonic does not get neutralized.
OAJ STIK is take care about do not mix directly in the spray tank & use only clean water for spray.

Packing
100 ml, 250 ml, 500 ml, 1 Liter, 5 Liter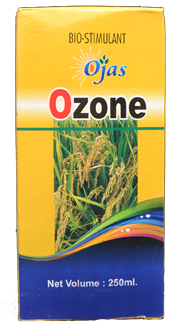 Common Name
Amino Acid Based bio stimulant liquid
Dose
50 ml to 100 ml per acre
Major Crops
paddy, gram, red, grams, soyabean, sugercan, wheat potato, groundnut, tea, all Vegetables all fruits
Specification

OZONE increase crop yield.
OZONE increase soil productivity
OZONE increase root development
OZONE help to fruits & flower setting and control to dropping
OZONE activate bio synthesis of all plant hormones

Packing
25 ml, 50 ml, 100 ml, 250 ml, 500 ml